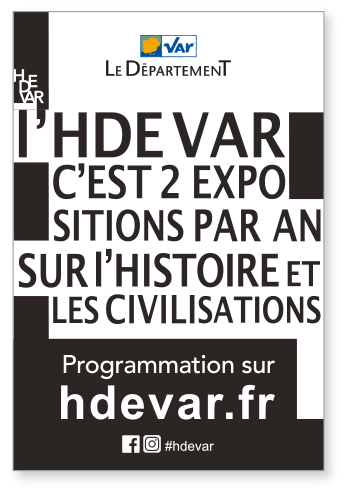 National exhibitions
The Departmental Exhibition Hall offers more than 650 m2 of exhibition rooms solely dedicated to national-scale exhibitions on the themes of history and civilizations. It hosts two exhibitions each year, one in summer, the other in winter, inviting the public to open up to disciplines such as sculpture, archeology, art history... To design them, partnerships with major national and international museums are sealed. They make it possible to establish this place as a major exhibition space in the heart of the Var.
This departmental facility develops, produces and sets up all of its exhibitions. They are fixed several years in advance in order to be able to build projects of national scope. For each of them, once the theme has been chosen and the exhibition curator has been appointed, loan requests are made to major national and international institutions, such as, for the inaugural exhibition "Ulysses, journey in a Mediterranean of legends". , the Louvre Museum or the Petit Palais in Paris, the Staatliche Antikensammlungen und Glyptothek in Munich or the Museum of the History of Arts in Vienna. They make it possible to obtain emblematic works nourishing exceptional events.
The summer 2022 exhibition, "Mummies, the paths of eternity" is on the agenda of major summer exhibitions in Europe. It showed, in an unprecedented way, rare objects specially brought together for the occasion and benefited from loans granted by renowned museums, a guarantee of the recognition of the place. Moreover, more than 37,000 visitors came to discover the exhibition. We thank them.
The winter 2022 exhibition "The fabulous history of toys, from prehistory to the present day" allowed visitors to discover the different types of toys and their use, from prehistory to the present day. Anne Monier Vanryb, art historian and curator in the department of modern and contemporary collections at the Museum of Decorative Arts in Paris, in charge of the toy collection, acted as curator.