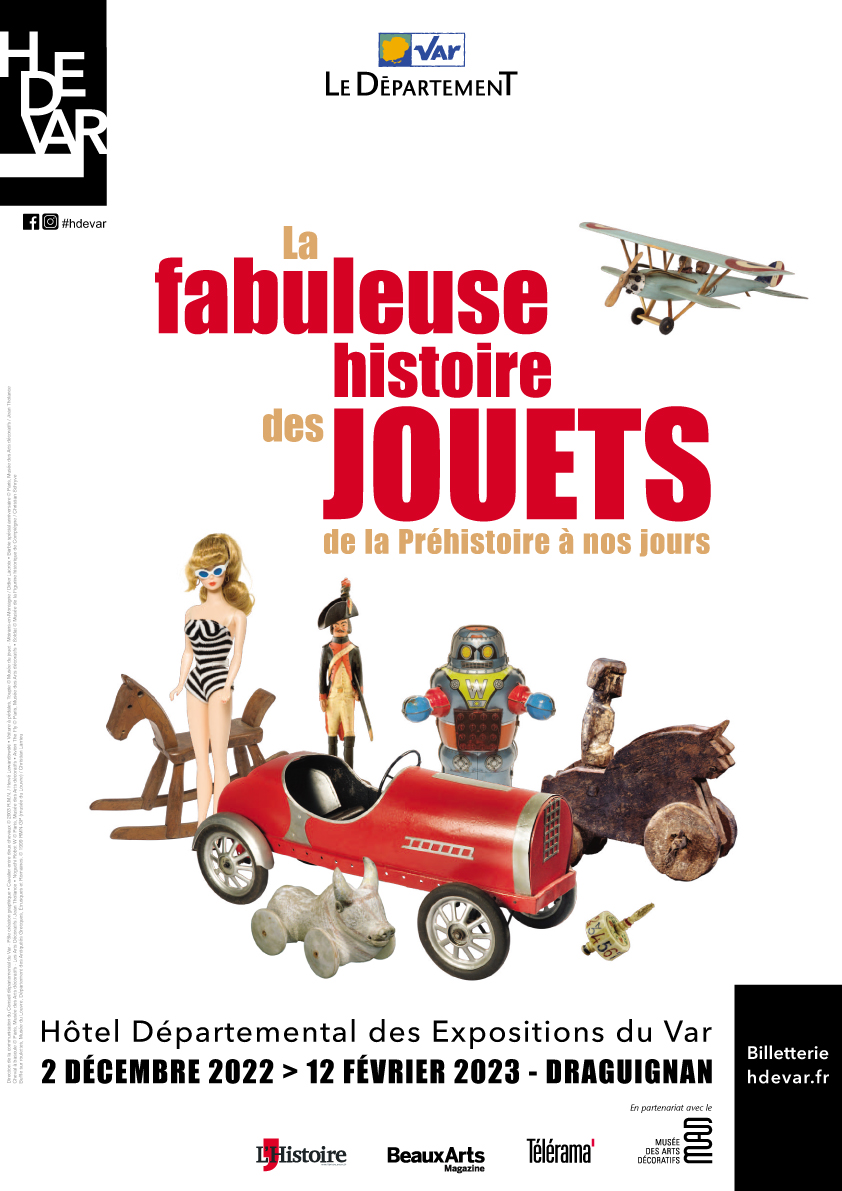 After its inaugural exhibition, Ulysse, Voyage dans une Méditerranée de Légendes, the Hôtel des Expositions du Var will offer "La table, un art français - Du XVIIe siècle à nos jours", then "Momies, les Chemins de l'Eternité" (Mummies, the Way to Eternity) for summer 2022, and "La Fabuleuse Histoire des Jouets, de la Préhistoire à Nos Jours" (The Fabulous History of Toys, from Prehistory to today) during winter 2022/2023.
"La Fabuleuse Histoire des Jouets, de la Préhistoire à Nos Jours"
2th December 2022 – 12th February 2023
Discovering different types of toys and their uses, from prehistoric times to the present day, the HDE Var exhibition for the winter of 2022 certainly won't be boring during this end of year period! Anne Monier, art historian and curator of the modern and contemporary collections at the Musée des Arts Décoratifs in Paris, in charge of the toy collection, will curate the exhibition. "At the beginning of the 21st century, toys are at an important turning point in their history: while children's bedrooms seem on the brink of overflowing, children are abandoning their toys at an increasingly early age, in favour of virtual entertainment. In the aftermath of lockdown, the prosperity of video games and also the toy market could pave the way for a future cohabitation between the real and virtual worlds. This is therefore a particularly propitious moment to develop toy history," says the expert.
Throughout the 20th century, children and toys have become real subjects of study (in history, social sciences, psychology, etc.) mainly thanks to the creation of museums dedicated to them (Museum of Childhood in London, Spielzeugmuseum in Nuremberg, the toys section in the Musée des Arts Décoratifs in Paris). However, "although the subject is uncommon, a childhood story can still be told through a toy, a 'talkative historiographer'" as Léo Clarétie, one of the first toy historians, called it. Toys follow historical, social, political and economic changes, just as they reflect and denote a child's place in society. A universal cultural fact: games can be found everywhere and in any era, along with toys," she explains. This fabulous history of toys will be told by Anne Monier, a graduate of the École Normale Supérieure and Sciences Po Paris and winner of a research grant from the Studienstiftung des Abgeordnetenhauses von Berlin in 2010.
She has been curator of many exhibitions at the Musée des Arts Décoratifs in Paris: Le Coffre à Jouer (2015); Une Histoire, Encore!; 50 ans de Création à l'Ecole des Loisirs (2015); Barbie (2016); L'Esprit du Bauhaus (2016); Les Drôles de Petites Bêtes d'Antoon Krings (2016). And she has also directed several works, such as L'Esprit du Bauhaus (exhibition catalogue, MAD, 2016); Barbie (exhibition catalogue, MAD, 2016); and Le Jardin Secret des Drôles de Petites Bêtes (Gallimard Jeunesse, 2019).
You can view or download the exhibition leaflet for your next visit.
Book your tickets for your next visit ! Click here !